Jessie Cave Profiled in New Magazine Article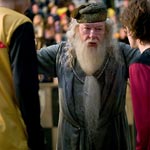 May 08, 2008
Uncategorized
Actress Jessie Cave, who is set to portray Lavender Brown in the upcoming "Harry Potter and the Half-Blood Prince" film, is briefly featured in an issue of ASOS Magazine where she comments on her first on-screen kiss with fellow actor Rupert Grint (Ron Weasley). The twenty-one year old actress, who was cast last year in the role of Ron's girlfriend in the film, says the following of filming that particular scene:
"It was a bit embarrassing. Our first screen kiss was on my third day of shooting." says Jessie. "It's been an amazing experience though. I've been completely immersed in the Harry Potter world since filming started last year."
The article also goes on to note her involvement in publishing a book of her illustrations. Thanks to JessieCaveFan, you can view a scan of the article over in our Image Galleries.
"Harry Potter and the Half-Blood Prince" will arrive in theaters this November.
Thanks to Joey for mailing!