Photos of "Half-Blood Prince" Items at Licensing Expo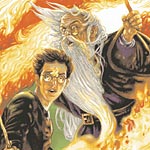 Jun 11, 2008
Uncategorized
A few days ago we first reported on the new products due from retailers and Warner Bros tied into the release of the upcoming Harry Potter and the Half-Blood Prince this fall. These items were to be displayed at the Licensing International Expo currently ongoing in New York, and some new photos from the event are now online. Of interest are much clearer photos of Draco, Snape, Ron, Harry, Tonks and Lupin that were seen previously on those mysterious ads for Opal yarn. In addition are some new products fans can expect to see this fall, including a nice set of water globes, as well as what is perhaps a Pensieve replica from the Noble Collection. Other items are new OotP themed bags, books and tees, and much more.
On a related note, another purported photo from HBP has now surfaced, this showing Harry and Ginny hugging. While we can not confirm if this is from the film or where exactly this came from, we will try to find out more and update when we can.
Thanks much to Snitchseeker and Potterish for mailing!