PotterCast 155: We Fly, Of Course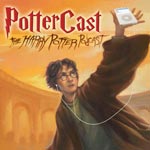 Jun 11, 2008

The 155th episode of PotterCast, our Harry Potter podcast, is now online for your listening pleasure. This episode brings you the latest discussion of J. K. Rowling's recent commencement speech at Harvard University. The PotterCasters delve into Jo's speech, giving their thoughts on the topics she discussed, the stories she shared, and much more. In addition to this, Sue brings you news on OotP film being available for download in the UK iTunes store and the Tony Awards appearance by Dan Radcliffe and Richard Griffiths next weekend. Next we jump to the second to last installment of Phoenix Files where part of the last quarter of the film is examined. Topics covered in this segment include the flight to the Ministry, the Department of Mysteries, the Death Eater invasion, and our dear Sirius. This super-sized episode wraps up with a preview of the long-awaited Acting Troupe, some Hufflepuff Death Eaters, why Starbucks is dangerous, and the way Jo says "Mr. Hammer!" To listen, just hit the "Play" button on the right side of the page (–>), or use iTunes, or direct download.
"We Fly, Of Course!"
– Jo's amazing way with words.
– Is there a Wizarding United Nations?
– What was Jo thinking when she gave the address?
– Luna: "We fly, of course!"
– Where are the security cams?
– Move Sirius vs. Book Sirius.
– Pixie dust equals Fairy dandruff!
– Wand work in fight scene.
– Hufflepuff Death Eaters!
RT: 85:54
Editors: Jeff Gregory and Andrew Garner
LeakyCon 2009: A Harry Potter Conference in Boston
Podcast Alley
Digg
Terminus 2008
Direct download (49 MB).
Direct download low-bandwidth (10 MB).
Remember you don't need an iPod to listen. Listen easily on iTunes, which you can download and install here, by clicking here to listen, or you can just use the streaming Flash player at PotterCast.com or just on the right side of this page. Discussion of the PotterCast is right here. Enjoy!