Debut Quibbler Edition Hits the Stands!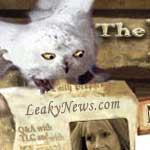 Jun 13, 2008
Uncategorized
On this freaky Friday we bring you a The Quibbler, a magazine full of "all the news you won't find anywhere else"! You can read it right here (and if you need directions on how to navigate the document, click here). The first edition, here just in time to celebrate Friday 13th, is right here!
This magazine has been written by Leaky staffers and was the brainchild of our forum mod, Rudius Hagrid; it was produced with help from Chloe, Evreka, Mary Wanguard, Doris, Lunesta, libbysmom, Dreamteam, Moose_Starr, LunasLion, Dragonsinger, danae24, SeverineSnape, Isabel, Jamie, Iheartprofessorsnape, The Azkaban Dietician, rowena r and Makani.
In this edition you can find information on Ministry conspiracies, missing DADA professors, and how to increase your intelligence by being hit by fruit. Useful information for all! Enjoy!