Followup: EA Russian HBP Game Release Date False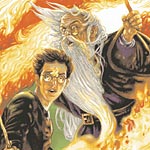 Jun 17, 2008
Uncategorized
Many thanks to EA, makers of the Harry Potter video games, who let us know the previous rumor regarding an August release date for the upcoming Harry Potter and the Half-Blood Prince game was incorrect. As we noted in our report yesterday, and now confirmed to us again by EA, the HBP video game will be made available this November in conjunction with the release of the sixth Harry Potter film.
If you missed the official announcement from Electronic Arts earlier, the HBP game (a nice larger screen shot now available here in our galleries) is described in the following that "players will return to Hogwarts to help Harry survive a fraught sixth year. They will also have a chance to engage in exciting wizard duels, mix and brew magical ingredients in Potions class and take to the air to lead the Gryffindor Quidditch team to victory. Players may even get sidetracked by Ron's romantic entanglements as they journey towards a dramatic climax and discover the identity of the Half-Blood Prince."
The Harry Potter and the Half-Blood Prince video game will be released on on the Wii, Playstation 3, XBOX 360, Playstation 2, PSP< Nintendo DS platforms as well as for Windows PC, Macintosh, and mobile devices. Be sure to check out the EA Harry Potter website via this link for more on the current "Order of the Phoenix" game, and stay tuned for many cool assets and HBP previews are due in the coming months!