Celebrate the Summer Solstice with the Dursleys!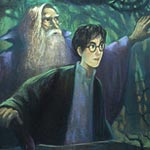 Jun 20, 2008
Uncategorized
Ahh sweet Summer! Depending on where you live, summer begins later today here in the US (or tomorrow for others), and the Summer Solstice means one thing to us here in the Harry Potter world: a summer spent with the Dursleys! While there is no new Harry Potter due out this weekend alas (five years ago on June 21 Harry Potter and the Order of the Phoenix was released!), you can relive those summers of Potter years past by playing the newest quiz on Scholastic.com as they have now launched the "What Harry Did On His Summer Vacation" quiz. Be sure to check out the many other quizzes available on the US Potter publishers website, including quizzes about our favorite Hogwarts gamekeeper Hagrid, and many more.
Also if you are so inclined, feel free to leave a comment here, or head on over to our Pensieve Parlor section of the Leaky Lounge forum to relive your experience on that OotP publication day.