PotterCast 157: No… Don't Even Ask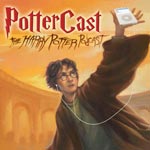 Jun 26, 2008
Uncategorized

The 157th edition of
PotterCast, our Harry Potter podcast, is now online with some fun Harry Potter related news, discussion, tomfoolery and so much more. First in the news, Sue brings us information on the latest numbers of online readers of the Harry Potter prequel, the series itself selling over 400 million copies worldwide, an overview of appearances by Dan Radcliffe and Richard Griffiths at the Tony awards, EW's 1000th issue, and a Wizard Rock the Vote update. We're back to the Bit by Bit of "Harry Potter and the Deathly Hallows" where the quartet finishes off chapter twelve and discusses the Trio's plan to infiltrate the Ministry. The next installment of "Are You Smarter Than John Noe?" comes up next with a slew of listeners battling wits with our John Dawlish. The Wrap Up follows with a bit on this week's tech problems, John's new place, the "We are Wizards" commentary, ComicCon info, and much more. To listen, just hit the "Play" button on the right side of the page (–>), or use iTunes, or direct download.
"No… Don't Even Ask"
– Ten years of Harry Potter.
– 400 Million.
– Lots of death.
– Rock the Vote.
– Target for wizards.
– Weasleys' Wizard Wheezes help the war.
– Everything breaks.
– Listeners find out if they are smarter than our John Noe.
– John hears the bells.
– Frak and cats.
– Sue updates on ComicCon tickets.
RT: 48:40
Editors: Stede Bonnett, Andrew Garner and John Noe
LeakyCon 2009: A Harry Potter Conference in Boston
Podcast Alley
Digg
Terminus 2008
Direct download (22 MB).
Direct download low-bandwidth (6 MB).
Remember you don't need an iPod to listen. Listen easily on iTunes, which you can download and install here, by clicking here to listen, or you can just use the streaming Flash player at PotterCast.com or just on the right side of this page. Discussion of the PotterCast is right here. Enjoy!