Dance the Night Away, Leaky Con and Wizard Wrock Style at Terminus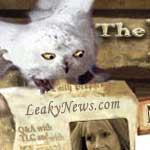 Jul 12, 2008
Uncategorized
Let's shake the rafters at Terminus, Leaky Con and Wizard Rock style, as we are thrilled to announce a very special dance party to be held next month. Hosted by DJ Paul DeGeorge (of Harry and the Potters), this dance party will take place the weekend of the Terminus 2008 convention in Chicago, Illinois on Friday, August 8th. Held at Reggie's Southside New Rock Headquarters , 2105 South State Street, musical performances from Wizarding rock groups are due to begin at 10:30pm from The Whomping Willows, Dreary Inferi, The Chocolate Frogs, and Swish and Flick, followed by what is sure to be a magical night of dance party fun. Cost for this event is $15.00 and is strictly 17+, ID required with a limited capacity. Proceeds will help Leaky Con 2009, TLC's first convention scheduled for next May in Boston, MA, and there will also be a raffle to benefit the Harry Potter Alliance. Transportation is provided to and from the venue for ticket holders starting at 9:45pm, with tickets now available to order via this link.
This dance party is part of a Wrock Wreggies event, with a second night of Wizard Rock and Dance to follow on Saturday, August 9 at the same venue. On this night, Wrock fans can enjoy an event hosted by Ashley from The Podcast of Awesome, and enjoy music from bands such as The Moaning Myrtles, Diagon Alley, Catchlove, The Parselmouths, and Lord Voldi and the Dark Marks. The proceeds from Saturday night will go to Steps School in Addis Ababa, Ethiopia.
Designed to help showcase some of the fun we have in store for you at LeakyCon 2009 and offer you a fun evening with your favorite wizard rockers, this is also opportunity to meet with some of the people bringing you Leaky's upcoming Harry Potter conference. Hope to see you there!