Rumor Alert: Full "Harry Potter and the Half-Blood Prince" Trailer Due with "Star Wars: The Clone Wars"?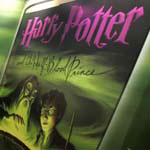 Jul 12, 2008
Uncategorized
Hang on everyone, we have a new installment in the rumor of the day/week/month category as the wait continues on a trailer for Harry Potter and the Half-Blood Prince film. TLC has now received several credible reports from sources who say there will be a trailer for HBP attached to Star Wars: The Clone Wars when it opens on August 15. However the latest twist is that this will be the full -length trailer as WB is eschewing a teaser to bring a longer amount of footage for fans next month. Again, while this possibility of a trailer with Clone Wars has been floating on the net for a while (along with the numerous other possible movies/dates we've reported previously) these latest reports holds a bit more credibility than others, however it should remain very much in the rumor category for now.
Also, it should be stressed that we are still awaiting an official confirmation from Warner Brothers regarding that rumor of a tiny teaser before the IMAX screenings only of The Dark Knight film next week. Again, as reported a few days ago, this will most likely not be an actual 'trailer,' but rather simply the logo, a bit of music, and some words saying coming in IMAX this winter. Alas. Thus, the great trailer watch continues, and we will update with more on all of this when we can.