Pre-Order Additional Platforms of "Half-Blood Prince" Video Game Plus New Photos Online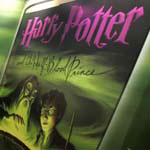 Jul 15, 2008
Uncategorized
A few pieces of news to update you on, regarding the video game for Harry Potter and the Half-Blood Prince. Multiple platforms of the game are now available for pre-order via our Cauldron Shop. In addition to the Wii and PC versions we told you about previously, you can also pre-order the PS3, PS2, Nintendo DS, Sony PSP and XBOX360 platforms.
In addition, EA, the makers of the Harry Potter video games, recently issued to multiple gaming sites previews of their upcoming video games for the rest of the year, including material on "Half-Blood Prince." Worthplaying.com has their article on the game now online, including four new stills from the game which you can see via this link. UPDATEYou can now see the stills here in our image galleries.
Please note, the Harry Potter and the Half-Blood Prince game, with music again scored by James Hannigan, will be released on November 13 here in the US, with the film due out November 21, 2008.