PotterCast 160: The Last Show… Before Tour!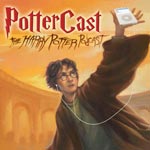 Jul 23, 2008
Uncategorized

The 160th episode of PotterCast, our Harry Potter podcast, is online this morning with our last regular episode before the PotterCasters set off for their upcoming tour. Sue starts off the news this week with info on some new HBP products seen online, info about the upcoming LeakyCon Dance Party at Terminus, Dan Radcliffe's "From Screen to Broadway Stage" Talk on August 19th, the "Half-Blood Prince" video game pre-order availability, and a recap on the news regarding the long-awaited "Half-Blood Prince" trailer. It is also important to note, registration for LeakyCon 2009 is now open! Tickets are going fast, so be sure to get your tickets for our first Harry Potter conference as soon as possible! Up next, we bring you the latest installment of "Guess That Book," where callers and PotterCasters attempt to identify specific lines from the Harry Potter series. Wrapping up this week, we share some listener demographics, news that Melissa's book will be translated into German, a final ComicCon note, and the revelation that Dr. Horrible is a Harry Potter fan. To listen, just hit the "Play" button on the right side of the page (–>), or use iTunes, or direct download.
"The Last Show… Before Tour!"
– "Half-Blood Prince" and Dan Radcliffe news.
– LeakyCon Dance Party and Registration information.
– Let's sort Vader!
– Lots of HBP Trailer talk and speculation with the PotterCast Quartet.
– PotterCast tour updates.
– Newest edition of "Guess That Book."
– Cleaning up John's innuendos.
– But there's great pizza in Scotland.
– A haggis burrito.
– Melissa and Sue will be at Comic Con in San Diego, CA starting at 10:30 a.m. on Sunday, July 27th.
– Watch Dr. Horrible.
RT: 47:58
Editors: John Noe, Stede Bonnett, Andrew Garner
LeakyCon 2009: A Harry Potter Conference in Boston
Podcast Alley
Digg
Terminus 2008
Direct download (22 MB).
Direct download low-bandwidth (8 MB).
Remember you don't need an iPod to listen. Listen easily on iTunes, which you can download and install here, by clicking here to listen, or you can just use the streaming Flash player at PotterCast.com or just on the right side of this page. Discussion of the PotterCast is right here. Enjoy!