Harry, A History! Announcements and More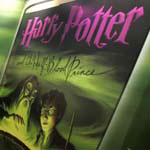 Jul 26, 2008
Uncategorized
Tonight, at long last, I get to debut the website for and make some announcements about my upcoming book, Harry, A History. This book has been such an important part of my life for so long that I am almost unable to believe it will only be a few months until I can walk into a bookstore and buy it myself. (Don't tell anyone, that would be embarrassing.)
But even better, it's finally time to talk about it with you all. So, in Leaky fashion, have some news.
Firstly, this book will have a foreword from J.K. Rowling. It's wonderful, and is a huge honor, to me, to have words from the woman responsible for the phenomenon at the front of a book about it. Not only Jo but everyone involved in the Harry Potter franchise has been hugely supportive of this venture from beginning to end, and I'm extraordinarily grateful.
Harry, A History: The true story of a boy wizard, his fans, and life inside the Harry Potter phenomenon tells the story of what has happened in the world because of Harry, and is also a personal history of my experience. It comes out November 4 in North America, Australia and the UK, and a German edition will be available at a later date (info about other territories will be announced here and on the site).
The book is a full chronicle of the phenomenon, from the first day that Harry was dreamed up on a train, through to the release of the seventh book. It takes place in the timeframe of the final six months during the leadup to book seven, and dips back into history to tell the story of the phenomenon (including information about how its popularity grew, fan fiction, wizard rock, spoilers, censorship and more). In doing so it features interviews with and remembrances from most of the key players in the development of the Potter phenomenon, including J.K. Rowling as well as her agents, publishers, editors, lawyers and more. All share stories and facts that have never been told before.
Also, I will be doing my first public reading of this book at Terminus 2008, during Artist and Author's night. I hope to see you there! I hope not to throw up from nerves!
One more announcement! My site for the book is now LIVE! It's at HarryAHistory.com, which will feature extras, excerpts and events (and elephants and electronics and eggs and ecumenicals and all other E words). It will also feature pictures from events and from the past seven years in fandom, and commentary/analysis and more. It will be updated often, so check back! This site was illustrated by Frak based on the book cover, and John Noe and Alex Robbin helped bring it to life.
All right, that's enough for now. 🙂 Thanks for reading. I can't wait to share this book with you!
(Aaaahhhh!)