Leaked HBP Trailer!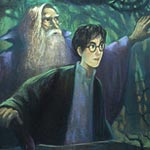 Jul 28, 2008
Uncategorized
The HBP trailer has hit the net…
(OPEN LINK FOR SPOILERS…)
…or has it? AOL is having some fun with Harry Potter fans tonight, and is Rick Rolling everyone who Googles "leaked HBP trailer." Click on the link you get when you search those terms and you'll end up watching a Rick Astley video. Joke's on us, AOL…
Of course, this is also semi-brilliant: Now, those search terms will be saturated, and will always go to that video. It's a first strike against what is sure to happen after AOL's exclusive content goes live: ie, it will spread across the net like wildfire. Search for it now and you get Rick Astley. Well played!