IGN Review, Stills of "Harry Potter and the Half-Blood Prince" Video Game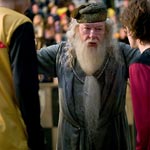 Aug 14, 2008
Uncategorized
Video Game resource IGN.com has a review online of the upcoming "Harry Potter and the Half-Blood Prince" video game on the Nintendo DS platform. This review details the activities, tasks, and experiences when playing the game as well as comments on the controls when playing. Similar to the previous Harry Potter video games, "Half-Blood Prince" puts the player in a world that enables them to 'control Harry and can explore the grounds of the wizarding school. Numerous students litter the halls and courtyards, offering friendly challenges.' The review then goes into the actual playing of the game and notes the following about the games and tasks:
Players can also compete in a number of games with the students. There's a wizard version of marbles, and a wizard version of pinball, both controlled with the touch screen. Players use the stylus to pull back and aim marbles, flinging them off to knock out other marbles or to hit obstacles and score points. It's not something that's been in the novels or films, but, according to EA, J.K. Rowling approved the game as a suitable playground activity of magically inclined children.

There are also a couple different competitive card games. By collecting Wizard Cards, players can play games like Patience (basic card matching) or a more extreme Exploding Snap, where cards are flipped down and players have to quickly snatch up pairs before all the cards explode, Perfection-style, off the table. They can also win collectible Quidditch player cards by completing challenges for all of the games.
IGN also speaks on the Quidditch element of the game, and says the DS version of the game 'features an overheard view Quidditch game. Players use the touch screen to guide Chasers around, and tap to throw the Quaffle. As the game goes on, the two halves of the Snitch get closer on the top screen. When they connect, the Snitch is released and players switch to Snitch catching mode. The screen switches to a tunnel vision mode and players have to find the Snitch, then keep the viewfinder locked on long enough for the Seeker to catch it. Bludgers don't play into the DS version.'
In addition to this, IGN also has five new images from the Nintendo DS version of the game online as well. These images can be viewed right here.
The "Harry Potter and the Half-Blood Prince" video game will be available in stores this November on the PS3, PS2, Nintendo DS, Sony PSP and XBOX360, PC, and Wii platforms. All versions of the game are currently available for pre-order via our own Cauldron Shop.