Half-Blood Prince Countdown Updated and Available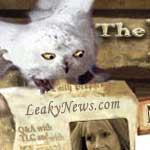 Aug 17, 2008
Uncategorized
Leaky's Half-Blood Prince movie countdown has now been updated to reflect the new release date.
Get this and other HP countdowns at LeakyNews.com
On this page or below, the countdown doubles as a movie news reader. To put it on your page, use the following code:
Mac users on the "Leopard" operating system and Safari Web browser, you can make a cut of this countdown by pressing the "cut" button and selecting it.