New UK Trailer Due for "Half-Blood Prince? Not Just Yet Says WB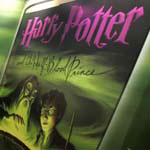 Aug 20, 2008
Uncategorized
The British Board of Film Classification has been updated today with news that a new trailer for "Harry Potter and the Half-Blood Prince may be released shortly. The website reads that "Trailer 2" received a rating of "PG" and has a run time of "1m 31s."
UPDATE: While this may indeed be the rating for a future trailer, WB says that unfortunately there will not be a new trailer airing just yet. Sorry folks! We will update should we get any additional info!
Thanks so much Thiego!