Possible Post Series Video Games in the works for EA?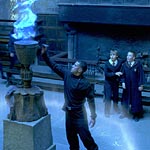 Aug 21, 2008
Uncategorized
There is more online today, regarding the future of the Harry Potter video games, and a possible extension of the games post "Deathly Hallows." In a new interview with Jonathan Bunney, an executive producer with EA, makers of the Harry Potter video games, the future looks bright for future game plans post book seven. Quotage:
'EA hopes to make the Boy Who Lived continue to entertain game fans, even after the two-part "Harry Potter and the Deathly Hallows" has bowed out of theaters. "I think that's a great opportunity," Wiimote-clutching "Harry Potter" executive producer Jonathan Bunney told MTV News last week at an EA summer press event. "Certainly, we've done it with 'Lord of the Rings.' We've extended beyond the movies there. We did it with James Bond for a while. I don't know what we'll do with 'Harry Potter.' It'd be fun to, I think. There's more stories that we can tell." As Bunney points out, this isn't without precedent. "Lord of the Rings" happily carried on in the interactive world past its original trilogy with new stories and interpretations."
Mr. Bunney also said the possibility exists for the company to go back and revisit the first Harry Potter video games, given the advancements in technology since the first in the series were made available. "There's an opportunity to go back to the original movie," he said. "The technology has moved on so much. When we were first making those games, we were making it for PlayStation 1, and now we've got, you know, the Wii. I think there's opportunities to [revisit stories]. "We have to figure out whether anyone wants to buy those or not!" he added with a laugh.
The subject of a possible online game was again addressed, with the producer re-iterating what he stated previously, as the article notes that "Warner Bros. has said they're interested in producing an online "Harry Potter," and so is EA. "We've talked about it a lot," Bunney said. "The reality is that we're focused on the movie games. I think there could be a fun MMO for 'Harry Potter.' "