Emma Watson Attends Royal Academy of Dramatic Art, Featured in Italian Vogue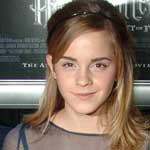 Aug 22, 2008
Uncategorized
Emma Watson has written a new message on her official website, where the actress reveals she attended the Royal Academy of Dramatic Art over the summer. The actress, who portrays Hermione Granger in the Harry Potter films, wrote that she took a course at the prestigious academy in London, England where she "made so many friends and learnt so much." This school is noted for such distinguished alumni as fellow Potter actors Alan Rickman and Kenneth Branagh to name but a few; you can learn more about the Academy via this link.
Emma Watson also wrote that she recently went on holiday to celebrate completing her A level exams (and Hermione would certainly be proud of Emma's scores which were all straight A's-Congratulations Emma!)
Finally, the actress let us know she will be featured in the new issue of Italian Vogue, which is due out later this month. The magazine will feature Emma in a fashion shoot that took place just outside of Paris,France, where she was lucky enough to sport Haute Couture for the event. We will update once that magazine has been published.