Cheryl Klein and the Matter of Harry Potter Trivia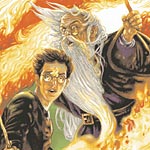 Aug 27, 2008
Uncategorized
Cheryl Klein, Senior Editor at Arthur A. Levine Books, is the subject of a new interview, where she briefly discusses her work as Continuity Editor on the Harry Potter books published by Scholastic. Cheryl, who is to be a judge at a Harry Potter Trivia contest at the Decatur Book Festival in Georgia on August 30th, gives a bit of insight regarding her role with the books and more as follows:
Q: What does a continuity editor do?
A: Continuity editor is a title we made up to describe what I was doing on the Harry Potter books, which was keeping track of all the facts. There's copy editing facts, like Bertie Botts Every Flavor Beans. Every time that it appears, does Every Flavor have a hyphen in it? Do we take out the "u" from "flavour" for the Americanized spelling? And I also help the primary editor keep track of where all the characters are, where all the magical implements are, ˜cause the plotting is so intricate.
Q: Did you ever catch a mistake that Rowling made, like a line where Snape has three kids named Moe, Larry and Curly?
A: Changes like that did come up. Talking about them is a little like violating lawyer-client privilege. It's the author's job to talk about those.
Q: Now that the Potter books are all done, what are you doing?
I'm back to my full-time job, which is editing other books for Scholastic.
Q: Have you done a lot of Harry Potter trivia contests?
A: I've never actually overseen a Harry Potter trivia contest. But I love trivia and I love Harry, so that will be great.
Q: If this is your first time as a judge, how are you preparing?
A: I hope to have all seven books with me. Oftentimes my job with Harry is not so much knowing all the facts myself, but like a good librarian, knowing where the facts are located. If somebody says when was the Wizarding Statute of Secrecy put in, my job is knowing where we can find that information verified in the books.
You can learn more about Cheryl Klein via her website, here. Be sure to check out some of the highlights from her keynote speech that she gave recently at the Terminus Harry Potter convention via this link.