New Luna Lovegood Doll from Tonner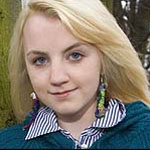 Aug 27, 2008
Uncategorized
Tonner Dolls, makers of high end collectible dolls, have released their new Fall/Holiday collection, and new is a Luna Lovegood doll. The doll, which you can see here, retails for $159.00 (USD), and is based on actress Evanna Lynch as she portrays Luna in the Harry Potter films, complete with mini Radish earrings and her Butterbeer cork necklace. The official description of the new doll reads as follows:
"One of RAVENCLAW's…ummm…well…most unusual students joins the ranks of HARRY POTTER TONNER® DRESSED CHARACTER FIGURES. LUNA LOVEGOOD at HOGWARTS is 17" tall and features a new face sculpt of an authorized likeness of actress Evanna Lynch from Warner Bros. Harry Potter and the Order of the Phoenix, with 14 points of articulation (neck, shoulders, elbows, wrists, bust line, hips, knees, and ankles). She features hand painted face details and rooted saran hair. LUNA LOVEGOOD comes dressed in her school uniform which includes a white cotton shirt, pleated wool skirt, button-down cardigan, blue & grey striped tie, grey tights, and faux leather Mary Janes. Her RAVENCLAW robe, wand and cheery earrings complete her ensemble – not to mention her special charm necklace that helps to ward off NARGELS; display stand included."
On a related note, be sure to check out the entire Tonner Harry Potter collection, including the recently released dolls, The Severus Snape doll, based on Alan Rickman ($179.00 USD), and Kreacher the House Elf ($99.00 USD).