New Leaky Bloggers!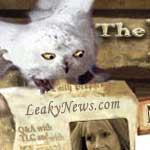 Aug 05, 2008
Uncategorized
We have some more bloggers in Leaky's new Blog section for you to check out. Remember, any Leaky reader who wants a blog should send their idea and any relevant experience to [email protected].
In the meantime, see what these newcomers have to say or read what you've been missing on the section:
Twiddlethosedials blogs on Harry Potter events and news and ties in Dr. Who occasionally…
Sam presents a take on current events, because Dumbledore reads Muggle newspapers too…
Aggi focuses on the first war and the Marauders…
Nina discusses filking and how it brings groups of fans together…
Lisa, author of The Quest Series, blogs about her relationships in Harry and fandom.
Welcome, guys, and we hope you all enjoy!