PotterCast 164: Harry Potter Goes to Comic Con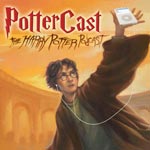 Sep 01, 2008
Uncategorized

PotterCast, our Harry Potter podcast revisits its stop in San Diego, California at the ComicCon Convention for our 164th episode now online for this week. First up, Sue brings you the latest news including Emma's perfect A-Level scores, a Wizarding World of Harry Potter theme park ride update, Dan Radcliffe getting ready to make his debut on Broadway in "Equus," new "Half-Blood Prince" action figure images, the potential continuation of the Harry Potter video games, and an article from the Telegraph about about Jo's foreward to our own Melissa Anelli's upcoming book, "Harry, A History." Next up, Melissa sits down to speak with Comic Con associate and Harry Potter fan Eric Bowling, who planned the first ever Harry Potter panel at Comic Con. Melissa and Eric discuss the reasons for bringing Harry Potter to the convention, how HP works with the other fandoms at the event, and much more. We then listen in on the Harry Potter panel at Comic Con which featured our own Melissa Anelli and Sue Upton, as well as Heidi Tandy and Erin Pyne. The panel covers the fandom from many aspects and answers a number of specific questions about the past ten years. All this and so much more waits for you in the newest episode of PotterCast. To listen, just hit the "Play" button on the right side of the page (–>), or use iTunes, or direct download.
"Harry Potter Goes to Comic Con"
– Dawlish in Ballet Shoes.
– Dan, an action figure for Equus, not!
– Feline translation of "Harry, A History."
– Melissa talks to Eric Bowling about Harry Potter at Comic Con.
– Listen to the Comic Con panel featuring Sue, Melissa, Heidi Tandy, and Erin Pyne on Harry Potter.
RT: 79:35
Editors: Stede Bonnett, Andrew Garner
Producer: John Noe
LeakyCon 2009: A Harry Potter Conference in Boston
"Harry, A History" Website
Unofficial Harry Potter Comic Con Yahoo group
Podcast Alley
Digg
Direct download (36 MB).
Direct download low-bandwidth (16 MB).
Remember you don't need an iPod to listen. Listen easily on iTunes, which you can download and install here, by clicking here to listen, or you can just use the streaming Flash player at PotterCast.com or just on the right side of this page. Discussion of the PotterCast is right here. Enjoy!