Profile on Harry Potter Producer David Heyman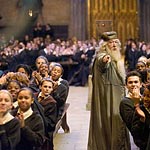 Sep 12, 2008
Uncategorized
There is a new in depth profile online tonight with Harry Potter film producer David Heyman. In this lengthy article, David reflects on how he became interested in the Harry Potter books and how he became involved with producing the film series as noted below:
"Heyman set up a modest office above a music shop in London, where a colleague chanced to read a review about a not-yet-published novel, "Harry Potter and the Philosopher's Stone" (its British title) and asked for a free copy in 1997. It was summarily tossed on the "low priority" shelf at the bottom of a bookcase.
"Then my secretary, who was fed up with the rubbish she had to read, remembered the good review, took the book home, and brought it up at a staff meeting. I said, 'Bad title. What's it about?' And she said, 'It's about an 11-year-old who goes to wizard school.' I thought that was a great idea, so I read it and fell in love."
"I hadn't a clue that the Potter books would become an international phenomenon," Heyman continued, "but I loved the author's voice, that the book didn't talk down to kids and that it made me laugh. I also liked it because I had gone to a school that reminded me of Hogwarts. We've all had friends like Harry's [hyper-studious] friend, Hermione Granger, and Ron Weasley, the good-time pal. The book talked about loyalty and friendship and courage and trust, which I most certainly related to. And it was the story of an outsider, an orphan, Harry, who must overcome adversity."
Appearing in the JewishJournal.com website, the piece also goes into the personal background of David, his Jewish roots, and the parallels found in "Order of the Phoenix" to life in Nazi Germany. David notes, "The echoes of World War II occur throughout the film," he said. "Voldemort and his followers are obsessed with the preservation of blood purity; they're not Nazis but they recall the politics and attitudes of Nazi Germany. And aesthetically – although it's a cliché – the [Death Eater] Lucius Malfoy and his family are blond, like Hitler's ideal of the quintessential Aryan." (Lucius Malfoy is played by Jewish actor Jason Isaacs.)
As we told you last week, David Heyman is also the producer of the new film "The Boy in the Striped Pajamas," which stars actor David Thewlis (Remus Lupin.) You can see some new clips of this film which is now opening in the UK below. Thanks much Krzys!
Clip "PARTY TO CELEBRATE THE PROMOTION"-featuring David Thewlis
Windows Media Medium, High / Quicktime Medium, High
Clip 'ARRIVING AT THE NEW HOUSE'
Windows Media Medium, High / Quicktime Medium, High
Clip 'DISCUSSING WHY THE FARMERS WEAR PYJAMAS'
Windows Media Medium, High / Quicktime Medium, High
Direct Trailer Links
Windows Media Medium, High / Quicktime Medium, High