City of Edinburgh to Honor J.K. Rowling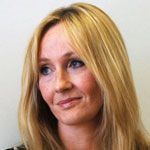 Sep 18, 2008
Uncategorized
Previously, we told you J.K. Rowling was to be honored with the Edinburgh Award, given by the city in Scotland where she resides. Update This event is now confirmed for tonight, Friday, September 19 in Edinburgh, with the The Herald reporting the following statement from JKR : "It is an absolute honour to receive this award, as Edinburgh is very much home for me and is the place where Harry evolved over seven books and many, many hours of writing in its cafes.So much has happened to me both professionally and personally since I moved here nearly 15 years ago, that to receive this recognition is particularly meaningful and special."
Additional quotes made available to us regarding the Edinburgh Award include:
Speaking on behalf of the judging panel, Lord Provost George Grubb said: "JK Rowling is undoubtedly one of the world's best-loved writers and her books continue to thrill audiences young and old across the globe. Everyone knows the famous story of how she penned the first Harry Potter novel in various Edinburgh cafes and her literary achievements have really put the city on the map. She is a tremendous asset to the city, not least for her writing prowess but also for her philanthropy and the vast amount of support she gives to numerous charities.
"We are very proud that Ms Rowling has adopted Edinburgh as her home town, and I am delighted to honour her today by presenting her with The Edinburgh Award, 2008, in recognition of her inspiring achievements and her outstanding contribution to the cultural, social and economic prosperity of Edinburgh."
As well as her writing, much of Ms Rowling's time is taken up supporting various charities that are close to her heart within the city and beyond. She is President of One Parent Families/Gingerbread and patron of both the Multiple Sclerosis Society Scotland and Maggie's Centres for cancer sufferers. Two years ago she set up a charity, the Children's High Level Group, to promote children's rights, particularly those of children in care in Eastern Europe.
Perhaps her most high-profile support goes to the Multiple Sclerosis Society Scotland, of which she is also patron, and hosts biennial charity balls, one of which was held at the Royal Museum in Chambers St. Scotland has the highest prevalence of MS in the world, and claimed the life of her mother, a Scot, in 1990. Ms Rowling's support for MSSS has recently helped fund a new laboratory for MS research at the University.
Mark Hazlewood, Director of MS Society Scotland, said: "Jo's support for people affected by multiple sclerosis has had a huge impact. She has enabled the MS Society Scotland to establish a world-leading research centre in Edinburgh which should lead to better treatments. She has added her voice to those of others raising awareness of MS and calling for Scotland to provide better support and services. People living with this devastating condition know that in Jo they have a strong ally; an ally who speaks with personal experience about how MS can impact on lives. She is every charity's dream supporter!"
Back in June, the Scotsman had reported that there was to be a gala dinner for this event, as well as Jo was to be "immortalised in a Hollywood-style "walk of fame" in the quadrangle outside the City Chambers, where she will leave her handprints."We are hoping to learn more about the proceedings at this event, and will update with more when we can.