MTV Talks WizardRockumentary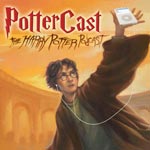 Sep 22, 2008
Uncategorized
MTV has a new article online highlighting "The Wizard Rockumentary: A Movie About Rocking and Rowling." The creation of Harry Potter fans and twin sisters Megan and Mallory Schuyler, the article notes the documentary is the result of two years of work by the sisters who "have been shooting, editing and promoting their 90-minute film, which explores how bands inspired by Harry Potter became an indie-rock movement, even a subculture. "It's one thing to go into a documentary with an agenda or trying to push a certain story," Megan Schuyler said. "But we didn't even know what the story was going to be. Literally, we shot up through the release of 'Harry Potter and the Deathly Hallows' not knowing what the ending would be."
The article reflects the journey contained in the documentary, started at a time when the Wizarding rock community only had "about 30 bands that based their songs on singing from the perspective of characters from the Harry Potter series." That musical community has of course, flourished and grown greatly over the years, and "as the sisters watched, cameras in hand, 30 bands grew to 300 in the space of one year, then nearly doubled over the course of the next. Inspired by Harry and the Potters, the bands started recording albums. Playing shows. Touring. And Grace " who had never performed before " was at Terminus in Chicago in August, dancing her heart out onstage and selling CDs and T-shirts offstage. The sisters knew they were on to something.
"By the time we finished, there were 500 bands," Mallory Schuyler said. "They'd been on MTV. Multiple bands were going on national tours. There were hundreds of CDs released. They'd raised thousands of dollars for charities. I mean, it was just incredible. We couldn't have captured a better story."
You can hear more from Megan and Mallory on our latest episode of PotterCast, where they joined us at our live show at Terminus, the recent Harry Potter convention held in Chicago last month.
Update: In a related second piece, the MTV Movie blog has a piece now on "How to Tell You're at a Wizard Rock Show." Among the telling hints might be things such as: "When a band called the Whomping Willows introduces a song by saying, "This next one is about things that crash into me..' or "When, instead of throwing panties, girls yell out to the resident hearthrob, "Alex, you're my Patronus!," or "When the show's MC yells out, "Are you ready to party like you're evil?"