A History of Harry for MTV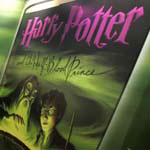 Sep 23, 2008
Uncategorized
As readers will recall, TLC's own webmistress Melissa Anelli is the author of a new book called "Harry, a History: The True Story of a Boy Wizard, His Fans, and Life Inside the Harry Potter Phenomenon," which contains an interview and a foreward from Harry Potter author J.K. Rowling. This week, MTV is doing a series of features on the world of Harry Potter, and has a new interview with Melissa, who gives us some background on how she had originally planned to go about the book without any interview with Jo, saying "I was actually planning on writing it without her [participation]. It's like when you watch the show ˜The West Wing': yes, the president is very important, but it's more about the staff. This is more about the people, the companies, the entities that brought Harry Potter into fruition. And using that analogy, having the president there adds so much, and adds so much interest, but I was counting on not having her."
Things changed of course, after Melissa asked for an interview with Jo, and MTV reports that "Anelli sent another letter last fall, asking for an interview, and notifying her that she would also be asking all of Rowling's agents, publicists, and editors as well. "She said yes, and then everybody else said yes, and it completely changed the book in the last four months of writing' Anelli said. "It made things a little crazy, but it was really worth it.
…while Rowling had been cagey in the past, not wanting to answer a lot of questions in fear of spoilers, "the floodgates were opened' Anelli said. "I've been watching her for ten years now, and most of the time, she answers, ˜Yes, mmm,' and you can tell she really wanted to talk about it, but she had to stop herself. Now she can talk about it freely."
As a first time published author, Melissa says she has been feeling very nervous about having a book become published, but says that JKR has actually been a big help during this time, noting "she's been very gracious about letting me know that certain feelings I have are normal, like feeling nauseated waiting for the book to come out. She's been very helpful about helping me adjust to the idea that I'm going to be a published author. And that's an even greater gift than what's in the book."
Available for pre-order, Harry, A History will be published on November 4, 2008.