Robert Pattinson, Emma Watson and Dan Radcliffe are Hot!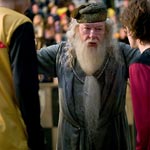 Sep 24, 2008
Uncategorized
AOL Moviefone has posted their latest list, this being "25 Under 25: Hollywood's Hottest Stars." Included on the list are Emma Watson (Hermione Granger), Dan Radcliffe (Harry Potter) and Robert Pattinson (Cedric Diggory). Remarks on each of the three are as follows:
"Emma Watson. What She's Done: As Hermione in five 'Harry Potter' pics, Watson has blossomed in front of eyes, from cute kid to- dare we say it- hot young adult.
What's Next: She'll voice Princess Pea in this winter's 'The Tale of Desperaux,' then really break out of the 'Potter' mold in '09's 'Napoleon and Betsy.' Of course she also has three more 'Potter' hits on the way.
Industry Buzz: "She is one of the brightest people I have ever met, with a razor-sharp mind," says 'Harry Potter' producer David Heyman. "After seeing her work in 'Half-Blood Prince,' I can assuredly say she can do it all. She is a great comedienne, and brings real gravitas to the dramatic scenes.
"Dan Radcliffe. What He's Done: Best known as the beloved boy wizard from the 'Harry Potter' films, he's also made headlines by going full frontal for the London stage revival of 'Equus.'
What's Next: 'Harry Potter and the Half-Blood Prince' is due in theaters next summer, and -after putting his "wand" on display in the Broadway run of 'Equus' – he'll return to London to begin filming the two-part 'Potter' finale, 'The Deathly Hallows.'
Industry Buzz: "As you can see by the work he has done outside of 'Potter,' he embraces challenges," says 'Potter' producer David Heyman. "He is a remarkably curious young man who is eager to be the very best at whatever he does, yet retains great humility and decency."
"Robert Pattinson. What He's Done: The Londoner was Hufflepuff Quidditch stud Cedric Diggory in two installments of 'Harry Potter' ('Goblet of Fire' and 'Order of the Phoenix').
What's Next: Hopefully 'Potter' hysteria prepared him well for playing vampire dreamboat Edward Cullen in the next page-to-screen phenomenon, 'Twilight.'
Industry Buzz: "His career could be extremely unique," director Catherine Hardwicke ('Twilight') tells us. "He's a powerful, sexy leading man and slips incredibly well into different periods and styles. I'd also love to see him work on Tim Burton-esque films where he has the opportunity to create completely wild, original characters that become classics."
Thanks Radcakesfan!