PotterCast 166: Terminus Part Two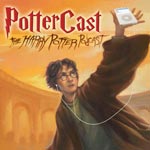 Sep 25, 2008
Uncategorized

The second part of our live PotterCast from Terminus is now online for your listening pleasure! Episode 166 of PotterCast, our Harry Potter podcast contains the rest of our live show from the Harry Potter conference that took place last month in Chicago, Illinois. Continuing where we left off from last week, our lovely Chloe first brings the Quartet a new Canon Conundrum to discuss, which is followed by another performance from The Mudbloods, who came back to treat us with two more of their songs. The PotterCasters then return with some Harry Potter Dueling and a few more questions from the audience. To listen, just hit the "Play" button on the right side of the page (–>), or use iTunes, or direct download.
"Terminus Part Two"
– A great opening.
– More Canon Conundrums.
– Nobody likes math in Harry Potter.
– The Mudbloods live.
– Dueling.
– Q&A with the PotterCasters.
– Flitwick riding the bull.
– "This cauldron's got a hole in it…"
RT: 40:52
Editor: Stede Bonnett
Producer: John Noe
LeakyCon 2009: A Harry Potter Conference in Boston
"Harry, A History" Website
Podcast Alley
Digg
Direct download (29 MB).
Direct download low-bandwidth (12 MB).
Remember you don't need an iPod to listen. Listen easily on iTunes, which you can download and install here, by clicking here to listen, or you can just use the streaming Flash player at PotterCast.com or just on the right side of this page. Discussion of the PotterCast is right here. Enjoy!