September Issue of The Quibbler Now Online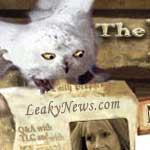 Sep 25, 2008
Uncategorized
Prepare yourselves, ladies and gentlemen, for "all the news you won't find anywhere else" is now available at your fingertips in the September issue of "The Quibbler." The fourth issue of our magazine has just hit the newsstands, containing the latest exclusive coverage from the 2008 WizOlympics in Beijing, the 'Wizard Bites Dog' scandal, the continued hunt for Lockhart, and much more. Each issue also contains letters to the Editor, Aberforth's newest Page Three Girl, and Luna's love advice. Additionally, the September issue features a special Letter from the Editor regarding the recent hurricane that ravaged parts of the Texas coast and surrounding areas of the United States. Information, useful for both muggles and wizards alike, on how you can help in the recovery and get involved is available in this letter. You can download and read the latest issue of "The Quibbler" via this link. In addition to its standard PDF format, a zipped version is also available.
To contribute to future editions of "The Quibbler," you can email the staff at [email protected] or check out the guidelines and more right here. As always, the Quibbler is produced and lead by our own Rudius Hagrid with the contributions of Chloe, Danae, Doris, Draonsinger, Dreamteam, Evreka, Jamie, Harry's Horntail, Abbey, Isabel, libbysmom, Lirene, Gina, Lunesta, Manaki, Mary Wandygaurd, Moose_Star, Red Scharlach, rowena r, SeverineSnape, Sevritus, and wordsaremagic.
Be sure to look out for our next issue which will contain a bit of Halloween fun! Enjoy!