Author Cornelia Funke Comments on the work by J.K. Rowling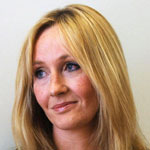 Jan 15, 2009
Uncategorized
At the screening of the film of her novel Inkheart, author Cornelia Funke gave some new comments regarding the work of Harry Potter author J.K. Rowling. Speaking to Snitchseeker, Cornelia Funke apparently said "that she admires fellow author J.K. Rowling's ability to use visual
imagery rather than realistic descriptions to help readers of all ages
understand difficult topics." Quotage:
She clouds your reality into a "costume." For example when she does
torture, in a children's book, she goes so close to what torture is '
and you can bear to look at it because she clouds it in a costume. Or
when Dumbledore has the pensieve, where he puts the thoughts that
bother him – he doesn't want to get rid of the memories, but he can't
stand them for awhile. What a perfect way to express the human
condition!
So that, I think is the task of fantasy writers that put our human
condition into story – not into realistic description. And she
[Rowling] can do that.
Inkheart the movie features Jim Broadbent (Professor Slughorn in the upcoming Harry Potter and the Half-Blood Prince.) Thanks to Snitchseeker for emailing!