Accio Nerdfighters: Live Recording of PotterCast 183 Thursday with the VlogBrothers!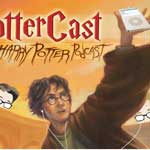 Jan 26, 2009
Uncategorized
(Episode 182 will be out soon! Meanwhile…)
Nearly three days of warning this time! You may have already heard on YouTube, but: this Thursday's LIVE recording of PotterCast will be a very special one, featuring Hank and John Green, otherwise known as the Vlogbrothers! The show will be live at PotterCast's UStream.tv channel.
Who are the Vlogbrothers, (some of) you ask? Hank Green, who runs EcoGeek.org, and his brother John, a Printz-award winning/NYT Bestselling young adult novelist, started "Brotherhood 2.0″ on YouTube in 2007. Originally, the brothers pledged to alternate posting videos every weekday, to get to know each other better while (almost completely) swearing off textual communication for the year.
A lot of Peeps, happy dances, puffy hair, songs about Helen Hunt and (fortunately) poorly fonted arcade games later came "Accio Deathly Hallows," the little spoiler-free song Hank posted to the channel three days before the release of the seventh Harry Potter book. The video went super-viral, and, athough this doesn't always happen when videos spiral through the Internet, a lot of fans started subscribing to the channel that produced the funny.
A year and a half after that video, the Vlogbrothers are at the head of their own phenomenon, with more than 58,000 YouTube subscribers in tow, an extraordinarily large portion of which (because of Hank's song) are Harry Potter fans. They are known for many things: their silly antics, a lot of hilarity involving pants, and the annual Project 4 Awesome, during which they commandeer YouTube and steer thousands of viewers to hundreds of important organizations and charities. The thing for which they are most most recognized, however, is the concept of Nerdfighting. Based around the idea that it's much better to be a traditionally defined "nerd" – that it's better to be intelligent and active in the world than vapid and passive, this concept has inspired thousands of young people to be more fully themselves. If you are reading this, chances are you're a nerdfighter, whether you knew it or not. The Nerdfighting community is strong, passionate and highly
organized (and always taking members); their main aim is, as the brothers put it, to decrease
"worldsuck."
We have a lot to talk about with these guys, and it promises to be a most funny and special show, so make sure to tune in!


NOTE, especially to those who have been at earlier live shows: We are not doing this via TalkShoe this time. This time and in the future we'll be on UStream, here. The show starts on Thursday at 7:30, but we will be opening the room early for people to get situated and chat. Get in there early! You can only chat with an account, and to be alerted when we start broadcasting, make sure to "follow" the channel. We hope this is the last thing for which we make you sign up for live shows. We'll be taking calls and questions from the chat.
You can learn more about the guys at any of their many web sites:
Hank at EcoGeek.org
John at Sparksflyup.com
Nerdfighters.com
YouTube Channel
DFTBA records
See you then! And here, have a video – no spoilers!