Dan Radcliffe Talks Theater, Politics, Potter, and More in New Interview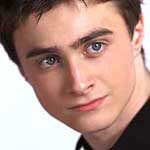 Jan 26, 2009
Uncategorized
There is a new interview online today from The Daily Beast with actor Dan Radcliffe (Harry Potter), which features the actor speaking at great length about a number of subjects related to his craft, his experience in America, the political and social climate of today, growing up in the spotlight, and much more. (Note: Caution to parents of younger readers regarding the mature nature of portions of the interview). Among the topics Mr. Radcliffe discusses is his experience during the run of the play Equus, noting it is something he'll be "very sad" to see end. Mr. Radcliffe says that his work in the theater has brought him a "certain amount of respect. It will always be my first experience on the stage," before going on to note that would be open to doing a musical in the future, " It's just a matter of finding the right one."
Mr. Radcliffe goes on to more of his experience in the States, relating a particular privilege to be here during the recent inauguration of President Barack Obama. Quotage:

I am so proud and happy for this country. He is everything the rest of
the world liked about America and now likes again. He is both Martin
Luther King and JFK. He is a pioneer. He is a symbol of progress which
is what we dig about this country. What you love about England is all
the old buildings and such. The traditions. I love that, too. But this
is what we want from you.
Continuing on this subject, the young actor speaks of the landscape of the British political future, his British heritage, which tends to make him "go doubly British when [he is] away from home." The actor also extends a personal invitation to the daughters of President and Mrs. Obama for "a private tour of the Harry Potter set." Speaking then in relation to the world of Harry Potter, Dan Radcliffe observes that he has developed "two personas" to balance his day-to-day life with the sudden rise of fame. He relates:

"It's not even a conscious thing. Something happens… People
always say to me, "Oh, you're so funny in interviews." And I go, Well,
I'm not really in real life particularly. That's what fame does to you.
You acquire another self."
The conversation continues, with talk of Goblet of Fire co-star Robert Pattinson's (Cedric Diggory) rise to fame and Dan's emotional approach to acting. Daniel credits poet John Keats' theory of negative capability for this, and notes: "The truth is to be found in the things that are not certain and not solid and not easy and not simple. Keeping your childlike attitude is important too. Having a sense of
wonder about everything in the world. Harnessing that wonder is what
acting is about."
Finally, the subject then turns to Mr. Radcliffe's work on the stage, and the kind of experiences he has had with various theater colleagues over the years. Acknowledging variances in the culture of theater verses film production, Mr. Radcliffe credits a wide circle of friends and homosexual colleagues during his youth as providing him with a different perception of homosexuality than his friends, who had "a rather different attitude toward it than I."
The full interview with actor Dan Radcliffe can be read via this link.