Marked Up Book on the Block for FirstBook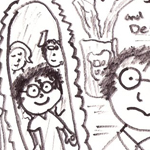 Feb 01, 2009
Uncategorized
LeaveAMarkAuctions is currently auctioning off a copy of Harry Potter and the Sorcerer's Stone that has been marked up in the margins, primarily by Paul DeGeorge of Harry and the Potters. Paul provides color commentary, sketches and other … additional detail … throughout the book. Joe DeGeorge chimes in and our Frak of PotterCast provides several illustrations. I've also marked up a chapter at Paul's kind request.
You can bid on the book by pledging a certain amount in the comments; all proceeds benefit FirstBook, a wonderful organization whose aim is to provide low-income families with books.
Bidding is open until 11:59 p.m. on February 7, and the winner will also receive, naturally, a commemorative barf bag. The auction was put together by Shooting Stars.