Winners of Question and Answer Contest Announced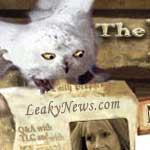 Feb 08, 2009
Uncategorized
Last month, we asked you to give us a story that answers a question about something we don't know about the world of Harry Potter for our latest contest. You delivered, and gave us a multitude of enchanting stories answering your own most pressing unanswered question. We have for you now the winners of this contest:
The first place winner of this contest has won their very own custom-made wand from Wizard Wood Wands.
Don't forget, the Neville's Chocolate Frog Card Design contest is still open. Submit your designs soon, for this contest closes on February 28th.
Many congratulations to all!