Weasley Twins Not Included in "Half-Blood Prince" Video Game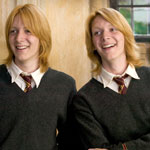 Feb 11, 2009
Uncategorized
The characters of Fred and George Weasley are apparently not included in the upcoming Harry Potter and the Half-Blood Prince video game. In a new interview, actors James and Oliver Phelps say they were not asked to record their voices as the characters they portray in the Harry Potter films are not included in the new game from EA. Quotage:
James: Our characters aren't in the game really as much because
they're not at school and that's primarily where all the game is based.
So unfortunately we weren't asked this one. But as we said earlier, it
was cool that EA still said come and see how it's coming along and what
you think. And they showed us how even the characters have got
individual hair, the detail is amazing in it.
Oliver: And in
the house it showed like different levels in the water, and how,
progressing throughout the day and night, how the light changes on the
water. Details like this – one or two guys, that's their job to make
sure that that's perfect. You take that for granted when you're playing
the game, but when you go around seeing all the individual jobs you
really appreciate it.
You can read the entire interview with the Phelps here courtesy of Snitchseeker.
Thanks Emma!