Rumor Alert: New Half-Blood Prince Trailer Before Watchmen in IMAX?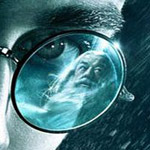 Mar 05, 2009
Rumor Alert: There are various reports on the net this morning, such as this one from Action Figure Insider, stating a new trailer for Harry Potter and the Half-Blood Prince will be airing before the showing of Watchmen when it opens in IMAX. The blogger writes:
On Monday night I was invited to a special IMAX test screening of
Warner Brothers Watchmen movie that will be released this coming Friday
to a theater near you. Why did I call it a "test screening?" Because it's one of the longest IMAX movies ever attempted and it barely fits on the projection platters. They
literally have to wind the film extra tight and work on the humidity in
the projection booths to make sure this all works right. Warner
Brothers has requested that the new Harry Potter trailer be attached to
the IMAX prints and even just that minute and a half of extra film on
the platter is causing concerns for the IMAX theaters.
Watchmen is due to open this weekend. For now, keep this in the rumor category; more when we get it, stay tuned!