Voice of Dan Radcliffe Not Part of Harry Potter and Half-Blood Prince Video Game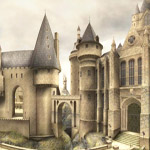 Mar 18, 2009
As July draws closer, we will be hearing more about the products tied in with the release of the sixth Harry Potter film. One such article is online today that features producers from speaking about the upcoming video game for Harry Potter and the Half-Blood Prince. In this article from Videogamer.com, we learn that while several cast members have contributed their voices for their character counterpart in the games, actor Dan Radcliffe (Harry Potter)is not one of those included. Quotage:
We've had a few of the cast come into the studio, but it's down to
their availability. We couldn't get Daniel Radcliffe this year because
he was doing Equus and making a movie, but we have his official voice
double. When they go back to do over-dubs and things like that, he's
the guy they use. And around the world we have all the actors we can
get. Funnily enough, I think France and Germany are getting more of the
original line-up.
In the interview, the EA producers also reveal they are working more closely with producers of the Harry Potter films:
We are lucky. And the fact that this is now the sixth game, and it's
been the same production company all the way through in terms of the
movies, and we've always had a very close working relationship with
Warner brothers¦ you kind of grow together in a way. In the same way
that the films have grown as big as they have – they're always eagerly
awaited – it's definitely the case now that we know that what they like
is what we like. The great thing is that things have now come to the
point where¦ well, last year on Order of the Phoenix we built Hogwarts
in full 3D. Kids loved it, and the movie production company loved it as
well, so this time around [for the film] they looked at our 3D models
and started planning shots.
JB: Their locations are all over the place, a castle in Scotland, a cathedral in Bath, so this lets them see how things join.
At last word, the Harry Potter and the Half-Blood Prince video game was due to be released on July 15, 2009.