Harry Potter Book Notes: Illegal Copies of Half-Blood Prince on Scribd, More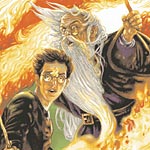 Mar 29, 2009
Several pieces of news tonight relating to the Harry Potter novels by J.K. Rowling. The Times is reporting that free copies of Harry Potter and the Half-Blood Prince were available on Scribd.com, a literary website where thousands of books and manuscripts are available for download online, often times without the consent or permission of the author. The Times spoke with legal representatives for JKR, and the paper reports "Neil Blair,
J. K. Rowling's lawyer at the Christopher Little literary agency, said that
Scribd did not have permission "and what you have identified are infringing
listings which we were aware of and actioning."
While the site is quite often used for legitimate purposes, the paper also notes:
Mindful of copyright concerns, Tammy Nam, a spokeswoman for the San Francisco
Scribd, says that it operates a "notice and takedown system", where it
removes books if their publishers demand it. She said: "If we get a request
we usually respond in 24 hours." This makes the site compliant with the US
Digital Millennium Copyright Act, which means that the site is not held
liable for actions of its users of which it is not aware.
Critics say that this is not enough, because authors and publishers are not
always aware that people are uploading books illegally." Other works from authors such as Ken Follett, John Grisham and Nick Hornby were also available seemingly without permission, with one publisher now investing the matter.
On a related book front, books that are made available quite legitimately in public libraries in Ireland are proving to be a source of financial windfall for many authors. In a separate article, The Times also reports that because of "Public Lending Remuneration scheme (PLR), introduced at the start of
this year, authors who register and who live in the European Economic Area
are entitled to a payment each time their works are borrowed." The paper then states those who are slated to receive a financial reward "when
their books are loaned from public libraries include payments for such
bestselling international writers as J K Rowling and Francesca Simon of
Horrid Henry fame…There is expected to be a cap on payments at €8,000 a year while the minimum
payment may be set at €2. The Library Council has about €1m to cover
payments and administration." Harry Potter and the Deathly Hallows was the fourth most popular book borrowed from the libraries in question.