PotterCast 190: The Answer to Global Warming!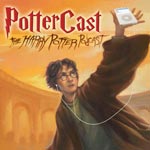 Apr 08, 2009
The latest episode of PotterCast, our Harry Potter podcast, has now been released and includes all your latest Harry Potter news, discussion, and fun. Our 190th episode starts off with Sue's News, which goes into detail about Harry Potter artist Mary Grand Pre's charitable art donation, a recent interview from Tom Felton (Draco Malfoy), new Half-Blood Prince posters, more DH filming news, and a TLC Deathly Hallows casting exclusive. The PotterCasters then dive into a Quick Fire Canon Conundrums, with the topics of the reasons why Harry does not ask questions, the Epilogue and Harry's children, what Lucius Malfoy makes his living, and more on the plate for today. Next, the Dueling Club battles listeners against each other, or our own John and Frak, on some Harry Potter trivia. Finally, the drums bring the close of the show along with talk of Melissa's temporary replacement, a LeakyCon registration reminder, more LeakyCon keynote announcements in the future, Melissa's trip to Italy, and much more. To listen, just
hit the "Play" button on the right side
of the page (–>), or use iTunes, or direct download.
"The Answer to Global Warming!"
Tom Felton discovers the seriousness of Wizard WRock.
Canon Conundrums Quick Fire!
Duel with John and Frak!
We have replacements for Melissa!
The new Melissa is required to use Melissa's old computer.
Pretty Darn Squeeful LeakyCon Keynote Announcements coming soon!
Go to youtube.com/pottercast for our daily vlogs.
Register for LeakyCon 2009 now!
RT: 60:31
Producer: John Noe
Editor: Michael Beckett
Contributing Editors: Seth Brown & Andrew Garner
Also, special thanks to our ever-vigilant UStream Mods for monitoring the live PotterCast recordings.
LeakyCon 2009: A Harry Potter Conference in Boston
"Harry, A History" Website
Jingle Spells 2
PotterCast Vlogs
Podcast Alley
Digg
Direct download low-bandwidth (7MB).
Remember you don't need an iPod to listen. Listen easily on iTunes, which you can download and install here, by clicking here to listen, or you can just use the streaming Flash player at PotterCast.com or just on the right side of this page. Discussion of the PotterCast is right here. Enjoy!