Live HPA Alliance Meeting Tonight with Evanna Lynch and More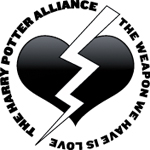 Apr 21, 2009
Attention members of Dumbledore's Army: The Harry Potter Alliance will be holding a live meeting on Ustream tonight at 8pm ET to celebrate the astonishing success of the recent Accio Book drive. Joining the call will be Winning Head of House, Ravenclaw's own Evanna Lynch (Luna Lovegood in the Harry Potter films). No matter the results of the HPA House competition, tonight will be a celebration of the power of the Harry Potter community, as the final results saw over 13,000 books donated to the drive.
Along with Evanna, Paul DeGeorge of Harry and the Potters, Head of the Chapter House, Matt Maggiacomo of the Whomping Willows,
Andrew Slack of the HPA, Karen Bernstein Chapter Coordinator are due to take part, along with some surprise guests. There will also be news about upcoming campaigns.
On a related note, be sure to check out this blog written by Andrew Slack featured on The Huffington Post regarding the many considerable efforts of the HPA and their work focusing on both the Harry Potter community and the horrors in Darfur and Rwanda. If you are interested in asking Andrew questions about this, or questions to any of the other members of the call tonight, you must be a member of Ustream to take part in the chat. Registration is free and easy, and you can always listen without joining here. Hope to see you tonight!