Live PotterCast Tonight!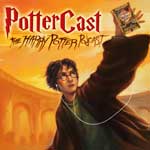 Apr 23, 2009
UPDATE: The show has now concluded; thanks to those who joined us!
Melissa is back and PotterCast is Live tonight! Please join us as we will be discussing the recent flurry of Harry Potter News, Leaky Con news and much more as we broadcast live tonight via our Ustream starting at 6:45pm ET (give or take a few minutes 😉 Also we will be doing our quick fire Canon Conundrums topics again, so feel free to have questions ready for the PotterCast crew. You can always listen via this link, but to take part in the chat you will need to be a member of Ustream (registration is free and easy to do) See you then!