PotterCast 193: Mount Pellegrino!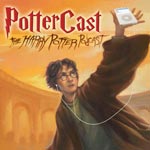 Apr 30, 2009
The 193rd episode of PotterCast, our Harry Potter podcast, is now online for your audible enjoyment. This week, Sue starts off the show with a round up of the latest HP news including: Cherrybomb being screened as part of the Cannes Film Festival, Emma Watson on DH filming, new Half-Blood Prince photos, aging the Trio for the Epilogue scene, and the big LeakyCon Keynote announcement involving OotP screenwriter Michael Goldenberg. The PotterCasters also talk about the 10 book signed collection of Harry Potter books available to LeakyCon attendees. Rapid Fire Canon Conundrums follows with the PotterCasters discussing a number of questions relating to the Harry Potter series. Up next, the latest installment of the PotterCast Acting Troupe is here with the next episode in our continuing story. Finally, the drums bring us to the end of the show which features stories from Melissa's trip to Italy, Frak's future home, Sue's Slytherin Moment, and more LeakyCon talk. Register for LeakyCon here! To listen, just hit the "Play" button on the right side of the page (–>), or use iTunes, or direct download.
"Mount Pellegrino!"
Screening of Cherry Bomb at the Cannes Film Festival.
David Heyman says less to be cut from Deathly Hallows films.
Rapid Fire Canon Conundrums: Do Horcruxes protect from extreme old age?
Who would win, Ben or Voldemort?
The PotterCast Acting Troupe: Albus Potter and the Founders' Fountain: Episode 4
Melissa did hear the drums!
An itchy Doodle!
Go to youtube.com/pottercast for our daily vlogs.
Register for LeakyCon 2009 now!
RT: 93:16
Producer: John Noe
Editor: Michael Beckett
Contributing Editor: Kaitlin Menzie
Also, special thanks to our ever-vigilant UStream Mods for monitoring the live PotterCast recordings.
LeakyCon 2009: A Harry Potter Conference in Boston
"Harry, A History" Website
Jingle Spells 2
PotterCast Vlogs
Podcast Alley
Digg
Direct download low-bandwidth (9MB).
Remember you don't need an iPod to listen. Listen easily on iTunes, which you can download and install here, by clicking here to listen, or you can just use the streaming Flash player at PotterCast.com or just on the right side of this page. Discussion of the PotterCast is right here. Enjoy!