LeakyCon Important Reminders and More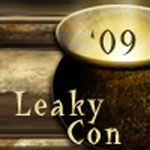 May 14, 2009
Just a few days from LeakyCon 2009, and we have a couple of reminders:
First, we have noticed a number of you have not connected your reservation at the Boston Park Plaza Hotel & Towers with the conference; the only way to get our block room rate is to do this. Make your reservation here or call the hotel at 617-426-2000 and let them know your reservation is for LeakyCon.
Second, we will announce the results of our Twitter contests later this evening.
Third, registration IS CLOSING SOON. You can do that at this link.
Schedule of Events:
Thursday
Friday Morning
Friday Afternoon and Evening
Saturday Morning
Saturday Afternoon and Evening
Sunday
Keynotes
Tickets to ALL of our keynotes are going fast. Here, again, are the links to our other two terrific panels:
Editors and Authors: Cheryl Klein and John Green – click here to read about it, click here to register.
Nosh with the Nerdfighters – click here to read about it, click here to register.
Q&A with Michael Goldenberg – click here to read, click here to register.
We are also holding a drawing for a signed one-of-a-kind collection of all 10 American-Edition Harry Potter books, donated by Scholastic and J.K. Rowling. For pics and video of the set, click here.
Don't forget, the main LeakyCon registration includes:
Welcome Feast
Leaving Feast
The Rocking Charity Ball
THREE enormous wizard rock shows with more than 15 bands performing
All in-conference programming
Vendor Room
Podcasts, including live PotterCast, Spellcast, Spinnerscast and more
Film screenings
And a lot more – an unbelievable value that is unparalleled anywhere. LeakyCon is a charity conference, with all proceeds benefiting Book Aid International and the HP Alliance.
We will see you there!