Part Three of Matt Lewis Interview Now Online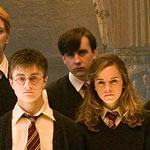 May 14, 2009
Lewislovers.com let us know they have released the third and final part now of an interview with actor Matt Lewis. In this excerpt, Matt jokes around regarding the demand to see the filming of long awaited kiss scene between Ron and Hermione in the upcoming Harry Potter and the Deathly Hallows:
Megan: Who are you going to have to
bribe to be on set the day Emma and Rupert have to kiss, because
EVERYONE, cast and crew, are dying to see it
Matt: I don't think even God is gonna manage to get onto that set.
Megan: haha, yea its gonna be crazy
Matt:
It'll be all closed up and locked down. I'd go down and watch, and I
wonder if I could blag my way on. I wouldn't want to though. I know I'd
be uncomfortable with everyone around watching, so I'll leave em to it!
Megan: Yea, thats very true. I would not want someone watching me kiss, must be really awkward to see it on screen too
Matt: No doubt!
You can read the rest of the interview, here. Thanks Megan!