PotterCast 196: Bother, Bother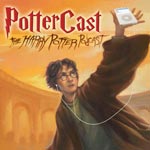 May 30, 2009
Our 196th episode of PotterCast, our Harry Potter podcast,
is now online with special guest Neil Cicierega, from Potter Puppet Pals, who joins us for an episode packed with the latest Harry Potter news, discussion, and more. Sue's News starts us off with the latest on the new Half-Blood Prince TV spots, the last bits of Deathly Hallows filming at Shell Cottage, and details of a Making Of Deathly Hallows Documentary interview with Evanna Lynch on set. Next, the PotterCasters sit down with Neil Cicierega who discusses his creation, how the Potter Puppet Pals came to be, the response from fans, and much more. Finally the show wraps up with some drums, conversations about wizard rock, and more. If you like live wizard rock, be sure to reserve your copy of the upcoming LeakyCon Live Album of the wizard rock live shows at our LeakyCon 2009 conference. To listen, just hit the "Play" button on the right side of the page (–>), or use iTunes, or direct download.
"Bother, Bother"

RT: 58:56
Producer: John Noe
Editor: Michael Beckett
Contributing Editors: Andrew Garner, Kaitlin Menzie, and Seth Brown
Also, special thanks to our ever-vigilant UStream Mods for monitoring the live PotterCast recordings.
LeakyCon 2009: A Harry Potter Conference in Boston
"Harry, A History" Website
Jingle Spells 2
PotterCast Vlogs
Podcast Alley
Digg
Direct download low-bandwidth (7MB).
Remember you don't need an iPod to listen. Listen easily on iTunes, which you can download and install here, by clicking here to listen, or you can just use the streaming Flash player at PotterCast.com or just on the right side of this page. Discussion of the PotterCast is right here. Enjoy!