PotterCast 197: Live at LeakyCon!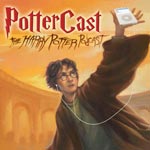 Jun 17, 2009
The 197th episode of PotterCast, our Harry Potter podcast, is now online for your listening pleasure. Featuring the live recording from our very first Harry Potter conference, LeakyCon 2009 in Boston, this episode includes Sue's Harry Potter news, a live-action edition of Are You Smarter Than John Noe, a question and answer session with the PotterCast quartet, and so much more. This episode also contains some live performances from the Ministry of Magic. The full versions of the abbreviated performances heard on this episode of PotterCast will be available in their entirety on the upcoming LeakyCon DVD. The LeakyCon DVD, which will be available to pre-order soon, will also include all wizard rock performances from our conference. If you like live wizard rock, be sure to reserve your copy of
the upcoming LeakyCon Live Album of the wizard rock live shows at our LeakyCon 2009 conference. To listen, just hit the "Play" button on the right side of the page (–>), or use iTunes, or direct download.
"Live from LeakyCon!"

RT: 46:03
Producer: John Noe
Also, special thanks to our ever-vigilant UStream Mods for monitoring the live PotterCast recordings.
LeakyCon 2009: A Harry Potter Conference in Boston
"Harry, A History" Website
Jingle Spells 2
PotterCast Vlogs
Podcast Alley
Digg
Direct download low-bandwidth (7MB).
Remember you don't need an iPod to listen. Listen easily on iTunes, which you can download and install here, by clicking here to listen, or you can just use the streaming Flash player at PotterCast.com or just on the right side of this page. Discussion of the PotterCast is right here. Enjoy!