Wizarding World of Harry Potter Starting to Hire; Opening in January of 2010?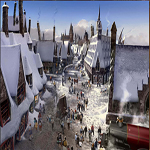 Jun 18, 2009
For many months we've reported the Wizarding World of Harry Potter theme park attraction was due to open in early 2010. Today there is an article online regarding a young woman from the UK who has been hired to work at the Harry Potter park in Orlando, Florida. In a joyful piece, she recounts how Universal is starting to hire for workers at the park, and says she "will be an attraction ambassador and part of the welcome team as the
new island opens' says Alyssa. "I'll be on crowd control and it will
involve handing out questionnaires and surveys to see how the new
attraction is being received."
The piece says that young Alyssa Nicholas got the job as she is a student at the University of Central Lancashire in Preston. As part of her 12 months work, she will be working in 3 months blocks at various parts of Universal, then continues: "In January next year, Alyssa will move on and be part of the grand
opening of a new ˜island' within the park, The Wizarding World of Harry
Potter, said to be "the world's first fully immersive Harry Potter
themed environment" based on the best-selling books and blockbuster
films by JK Rowling." Alyssa also says of her job handing out questionnaires to all the Harry Potter fans that will be visiting the park: "This is important when you are dealing with a new attraction as it
will quickly reveal how people are responding to it and throw up any
initial problems that there might be. "It's a great opportunity to be there when they open a new attraction like this. It's a major event and it will be very busy."
Good luck Alyssa! Please note: Scores of readers have asked about all other job opportunities at the theme park. Unfortunately we do not know when they will be hiring on large scale yet and will update with that when we can, and we also urge you to follow this site for more.