Rumor Alert: Harry Potter Theme Park Based on GoF Time Frame, Custom MagiQuest for Park, New Footage More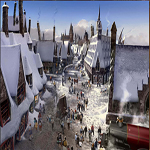 Jul 17, 2009
Several interesting bits of news tonight regarding the Wizarding World of Harry Potter Theme Park currently under construction in Orlando, Florida. First, Central Florida in Demand has a special treat for subscribers with a new video feature on the Theme Park, including new looks at the plans for the mammoth Castle. You can see a preview of the video here, however if anyone can record the full on demand version, please send it in to [email protected]
Readers will recall of course last week Potter film producer David Heyman confirmed that he has been working a bit on the theme park and yes indeed fans will be able to ride through Hogwarts castle on a chair with a moving arm with Harry, also saying there are three rides planned. Chiming in on the ride and more is this rumor from in the know blog Theme Park Insider, which reports on the setting/time frame for the overall park:
Kuka robot arms will power a suspended dark ride through Hogwarts
Castle (think Legoland's Knights Tournament meets Peter Pan or ET – but
with a much cooler storyline and animated effects.) The timeline will
be in the middle of the book/movie storyline – around the fourth book,
I've heard. Dining will be at the Three Broomsticks in adjacent
Hogsmeade, with another more kid-focused attraction in the mix. And
Dueling Dragons will be rethemed to Potter, as well.
Finally, another very interesting rumor from Screamscape, which updates that the popular MagiQuest will indeed be part of the Theme Park. Quotage:
"Screamscape sources tell us that Dueling Dragons may finally be forced
to shut down for it's final transformation in late August. According to
what we've been told the ride will likely be renamed Dragon's
Challenge, but when it returns it will apparently come back with an
even darker look and theme. No more Fire and Ice dragon either¦ as
apparently even the track colors may be repainted in much darker tones.
Meanwhile the nearby Flying Unicorn is still said to be renamed Flying
Hippogriff as expected.
The big rumored news however is what
I've been expecting to be announced¦ and that a custom built MagiQuest
system will be brought into the park. Not only in the Wizarding World
of Harry Potter, but from what I've been told little things will be
added all throughout the park's other lands that will react to the
magic wands purchased by guests. You'll only have to look out for
little "lightning bolt" symbols here and there to tell you where to aim
your wand.
Related: You can learn more about general Magiquest here and here.