Bonnie Wright to Appear at PURE Fashion Exhibit (Updated)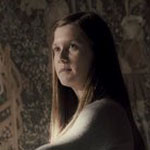 Jul 20, 2009
A press release issued today to TLC heralds the news that actress Bonnie Wright (Ginny) will be making a public appearance at the PURE Fashion Exhibit next month in London, England. According to the release Bonnie "will be hosting the MADE-BY stand" on Sunday, August 2nd. MADE-BY is described as an organization that "works with fashion brands to improve the social and environmental
aspects of their entire supply chain using a step-by-step approach. The
blue button MADE-BY label is then used on clothing to communicate the
brand's commitment towards continuous improvement." The piece continues with this from Bonnie:

"As a fashion enthusiast, Bonnie Wright is pleased to show her support
for the sustainable fashion movement. "I've always been very
interested in fashion, but it is extremely important to me that the
social and environmental issues associated with the production of
fashionable clothing are addressed. MADE-BY carries out really
important work in transforming the fashion industry, and I am thrilled
to support the organisation and help raise awareness of these ongoing
issues" Says the eighteen year old."

Update: Bonnie's love of fashion can be seen in the new issue of Grazi Magazine, as previewed here in the Daily Mail. UPDATE 2: More are available here via The London Paper here in our galleries. or here via Cherry-bomb.org at BWO
Video of Bonnie from the magazine is now available here.