Fan Report: Deathly Hallows PaperBack Release Party at Scholastic Store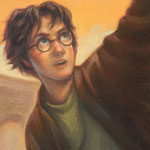 Jul 21, 2009
Two years ago today, Harry Potter and the Deathly Hallows by J.K. Rowling was released. As readers will recall, several weeks ago in the midst of the flurry of the HBP movie release, Scholastic, US publishers of the Harry Potter novels, released the paperback edition of Deathly Hallows. Given the date today, we thought you might enjoy this fan report and photos below from TLC reader hpboy13 who went to the special paperback release party held at the main Scholastic Store in Soho, NYC on July 7th. Thanks so much hp!

The party started at 10a.m. when the store opened. The entire place was decked out in posters and other HP decor, including an entire display on HP. In the entrance hall there was a breathtaking display of all seven HP books, all of them signed by JKR herself according to the inscription.

When I walked in, there were countless DH paperbacks on display,
so I quickly grabbed one and bought it at long last, receiving with it
a poster (the one Scholastic put on their site a short while back, of
all the covers mixed together "the most magical adventure of our
time.") There was a huge stand that had all the books and DVDs on it,
as well as all kinds of HP merchandise (including all four houses, Hogwarts castle). Needless to say, my wallet became rather empty very quickly after I saw it.

There was a huge printout of the DH cover with a hole in Harry's face for people to take their picture in, which I happily did. I then participated in the first of the hourly trivias, winning an HP bag (I cobbled together an image of it from all sides.)
I then went up to the crafts station, where me made "potions" (similar
to the flubber children make, but we called it swelling solution) and
"wands" (a plastic tube filled with "magic crystals," glitter, and
"dragon tears") I participated in several more of the trivia contests to get the
runner-up prize (although I won) of a left-over pin from the Sorcerer's
Stone anniversary. The workers soon realized that I was an uber-fan,
and requested my help in coming up with more trivia questions, which I
gladly obliged.

I also entered a raffle for a trunk with all the hardcover books
and a piece of artwork by Mary GrandPre. I'm fairly sure I haven't
seen this artwork before, it depicts Sirius and the Trio in the
Shrieking Shack. I didn't win though I was around the party
so long, and so dressed up for the occasion, people began thinking I
worked there. Some time after 5p.m. several members of The Group That
Shall Not Be Named arrived, providing Scholastic with much more
business for the merch. We finished off the party at 6p.m. by fawning over the display of signed books
.